UI/UX Artist: Hand Cursor!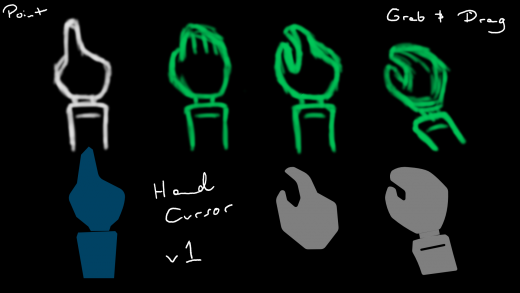 Hi all. This is the UI/UX Artist Paul with the first initial scratches into a brand new icon made from scratch! Introducing the Hand Cursor. (Oooh yes fancy.) The hand cursor will be used in tutorial scenarios to demonstrate clickable UI elements and their interaction, especially once VR interactivity becomes a feature and hand-based interaction becomes all the more relevant. It may also potentially see use in-game pending experimentation.
The basic gist is an all-too-familiar design motiff: a hand that points, opens, and closes to represent human manual manipulation, such as this simple demo image from a quick internet search result: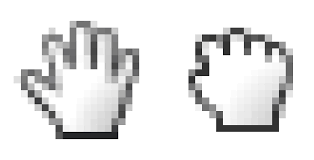 The cursor for Rank Warmaster will be 100% custom made, and as such the basic concept illustrations with preliminary vector matching are currently what there are to show. Further work on this will add more definition and maybe color, perhaps integrating the color palette of ARES onto the glove. This is a new icon piece (and also my first time drawing hands in a while) and therefore a lot more work and design evolution is to be expected.