Asset Screen #4: Messages & behind-the-scenes progress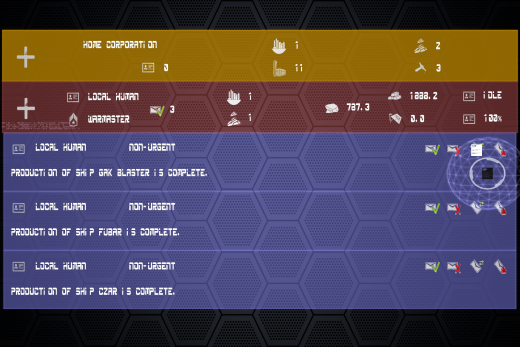 We can now receive status messages and requests from other players or the AI via the asset screen in the new message asset bar (seen here in blue). You'll receive messages when ships or buildings have been constructed, when your AI needs orders (maybe the mayor of one of your cities needs to know what to build next), when an AI or player needs resources such as ore or refined materials, and more.
We've also begun to hook up classes of behavior behind the scenes of the asseet screen. You can now open and close almost all of the asset screen info bars from within the screen just by clicking on the relevant icons.
But the real work of the last few weeks has been the further integration of the gwob system with the rest of Rank: WarMaster. What's a gwob, you may ask? Most games bundle their files together for release: Doom famously used a file format called a WAD. Bethesda games use a format called a BSA. R:WM uses a custom format called a GWOB. Accordingly, we've built an in-house tool called Gwobster to package loose files into gwob archives; we've also made additions to the game code to successfully parse out any information we might need from a gwob archive. It requires a lot of testing, but when you no longer notice the system working because your game assets just load, you know you've written it correctly.