It is official. Ship to ship Multiplayer is Up!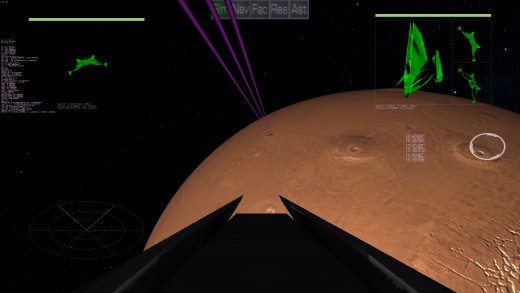 The multiplayer for ship to ship combat is up and working.  The respawn also works, which means, after someone dies, the host server can just hit a button and everyone is back to full health.  Obviously, this makes battles more fun since people can get right back into the action.  Admittedly, it is still rather crude, since fleets wouldn't be here yet.  There has been some rumblings about making a "fleet builder", so if one just wanted to do head to head fleets rather than the full game with cities, that could be done.  This would prevent the normal time it would take to design and build a fleet as in the normal game, so people could have instant action with a large amount of ships.
Does this mean the full multiplayer is up?  No, but now it's playable for ship to ship conflicts.  So then what actually works?  Sending a player across, sending ship designs across, position and heading tracking and damage.  (So basically anything you would need to run around and blow up your friends!)  What doesn't work?  Sending corporations/factions across, factory queues, AI decisions, etc.  That is what I will be working on next to bring the rest of the game across the network.  I expect this to take a few weeks since there are a lot of structures to have moved and tested that it works.  I'm sure there will be a lot of tweaks that will need to be done as further testing happens.
But make no mistake, this is a major milestone!  I will be getting this to the testers soon. ;)