UI/UX Artist: Building Lights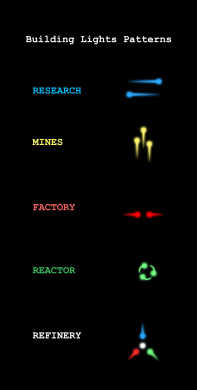 Hi all. This is a quick update. This week I have the current running mockup of the soon-coming Building Lights. These are "running lights" for your city's buildings categorized by type so one can tell at a glance what building does what. The lights themselves will be done in-game via the engine so for today I have just mockup samples of what the lights will be doing.
The Research Building will have a blue back-&-forth horizontal strobe light reminiscent of pattern of eyes reading text & hence research.

The Mine will have a series of yellow lights rising vertically to represent extraction of ore from underground.

The Factory will have red, orange, white lights (whatever playtesting reveals is most visible given the Martian surface) coming together to represent components being assembled.

The Reactor will have green lights cycling in a horizontal loop reminiscent of plasma in a tokamak reactor.

The Refinery will combine red, blue, and green lights converging while turning to white, to represent disparate materials being processed into uniform substance.

The Warehouse will have search lights only, no color or patterned running lights.

The Turrets also will lack running lights. They may instead have a visible spotlight effect, red in color.